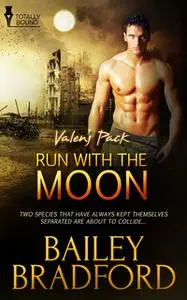 «Run with the Moon» by Bailey Bradford
English | ISBN: 9781784303945 | EPUB | 0.3 MB
Two species that have always kept themselves separated are about to collide and create a new world. Humanity almost managed to do itself in. Ravaged by wars and plagues, the human population on earth has been bordering on extinction, although pockets of people have been forging on over the past few hundred years. Its a hard life, and one Aaron Olsen fears he doesn't fit into. As a son of a village leader, there are pressures on him he can't manage, and things he keeps hidden, desires he doesn't know how to express that keep him up many nights as he worries over them. Valen is an alpha, born with the crescent moon mark on his chest. It means hell have to leave the pack he was born and raised in. It is the way of the wolf, and the only way to prevent it is to fight his father. Valen has no intention of doing such a dishonorable thing. He leaves as he's supposed to, only to find himself the victim of thievery. When he hunts down the party responsible for stealing his belongings, Valen finds himself attracted to the human Aaron Olsen. Now, if they can only survive their own pride and insecurities, and an attack that threatens everything they love, they just might have a chance at happiness in Valens Pack.