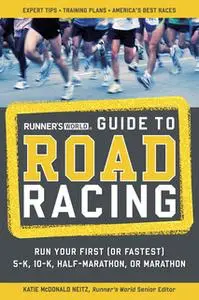 «Runner's World Guide to Road Racing» by Katie Neitz
English | ISBN: 9781605299723 | EPUB | 1.5 MB
Expert advice on training for and competing in the four most popular road races–5-K, 10-K, half-marathon, and marathon–backed by the authority of the world's leading running magazine.
Whether you are a competitive or a recreational runner, the Runner's World Guide to Road Racing will help you prepare for and perform your best on race day. Runner's World senior editor Katie McDonald Neitz has compiled the best tips and techniques on training, nutrition, injury rehabilitation and prevention, and other insightful information that will help you to achieve your peak running performance.
In sections devoted to each of the four race types, Neitz lays out the insider secrets of the pros in a concise, user-friendly format, including:
Distance-specific training programsEating plansTips for hydrationRace-day strategiesPacing recommendationsAdvice on achieving the optimal mental state for competition
The information here is designed to suit runners of all experience levels–beginners who are starting from scratch, those who have been running for years but are new to the race scene, and people who have racing experience but want to take on a new challenge. And, because every tip, instruction, and recommendation included in this book has been Runner's World tested and approved, you should consider this no-nonsense guide your road racer's bible.