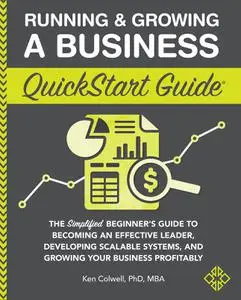 Running & Growing a Business QuickStart Guide: The Simplified Beginner's Guide to Becoming an Effective Leader, Developing Scalable Systems and Growing Your Business Profitably by Ken Colwell
English | September 19th, 2022 | ISBN: 1636100635б 1636100651 | 285 pages | True EPUB | 9.05 MB
The Best Book For New Or Experienced Entrepreneurs Who Want To Grow Their Business!
You've started a brand-new business. Are you ready to crush the competition?
It's no secret that starting a new business isn't easy. Once everything is up and running, however, entrepreneurs face a new set of challenges. It's time to leave the uncertainty behind and start scaling the success of your business.
Best-selling author, professor, and consultant Ken Colwell, PhD, MBA knows what it takes to fuel the growth that brings a new business out of the early startup days and into a new phase of profitability.
Drawing on nearly three decades of hands-on experience, Colwell lays out the clearest path yet for new entrepreneurs who need to manage hiring, daily operations, and business growth while developing critical leadership, time management, and growth mindset skills.
Use the guidance in this book to secure the future of your business.
It doesn't matter if your company is two weeks old or two years old—this book will teach you how to scale operations, strengthen your bottom line, and build a resilient business that stands out from the competition for years to come!
Running and Growing a Business QuickStart Guide Is Perfect For:
• New or experienced entrepreneurs getting their businesses off the ground
• First-time entrepreneurs planning for the future
• Current business owners who are struggling to scale or aren't happy with their rate of growth
• New managers, new startup hires, or current employees angling for a promotion
• Anyone who wants to get a better picture of how best to manage a business for the long term
Running and Growing a Business QuickStart Guide Explains:
• How to scale your business and stand out in a competitive business environment
• How to excel at business management fundamentals from managing your LLC to growing your company
• How to run your start-up on a day-to-day, month-to-month, and year-to-year basis
• How fund growth without overextending yourself and maintaining profitability
• How to become a better manager, how to improve your work-life balance, and how to lead your business to new heights of success
YOU WILL LEARN:
• Growth Management Fundamentals – How to Ignite, Control, and Profitably Sustain Business Growth
• How to Grow as an Entrepreneur – Learn Valuable Time Management Skills and How to Live a Self-Actualized Life
• How to Be a Better Leader – Learn How to Inspire Your Team, Delegate Effectively, and Achieve Your Goals
• How to Manage Your Business – Measure and Improve Day-To-Day Success, Standardize Procedures, and Scale Profitably
• How to Hire the Perfect Team, How to Accelerate Business Innovation, How to Grow Your Bottom Line, and More!
If you have ever looked at your new business and asked yourself "where do I go from here?" this book is for you! Ken Colwell, PhD, MBA is also the author of the bestselling book Starting a Business QuickStart Guide.
*LIFETIME ACCESS TO FREE BUSINESS GROWTH DIGITAL ASSETS!*
Running and Growing a Business QuickStart Guide comes with free lifetime access to a comprehensive library of tools and templates to help you grow your business quickly.
• GIVING BACK*
ClydeBank Media proudly supports One Tree Planted as a reforestation partner.
LanguageEnglish
Enjoy
My Blog.
No any convert or low quality!