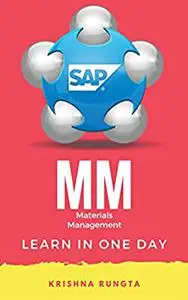 SAP Material Master For Beginners: Learn MM in 1 Day by Krishna Rungta
English | August 3, 2017 | ISBN: 1522008748 | 263 pages | EPUB | 10 Mb
SAP MM is one of the core modules of the logistic process in SAP.SAP MM covers a broad area of business functionalities. There is no surprise that SAPMM is a very broad subject, and it requires ample amount of time. In order to save users time and make subject matter easy, this book is designed. The book is small but covers all important aspects of SAP MM.
This book will help you to get end-to-end knowledge of SAP MM module in a short span of time. The book has segmented SAP MM modules into various section like Master data, purchasing, pricing and Inventory management in a concise way. This edition will also guide SAP MM aspirants for their certification course.
It can be used as a user manual by SAP readers. All technical terminology are well explained. By using this book SAP implementation becomes easy, you will learn how SAP MM can be configured step by step. The screenshot and examples clearly explain various t-codes for SAP MM process. For beginners, it will be their first hand on experience with SAP MM. Learning SAP MM becomes easy with this book.