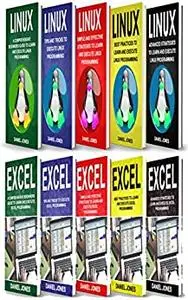 Programming for Beginners: 10 Books in 1- 5 Books of Linux programming+ 5 Books of Excel programming by Daniel Jones
English | November 2, 2018 | ISBN: 1730776736 | 531 pages | EPUB | 0.68 Mb
If you want to learn Linux programming, there's not a better book on the market for you. This Powerful pack of books is going to assume you know absolutely nothing about Linux, then teach you everything from A-Z, some of the most significant topics that will be covered in this book are as follows:●The most common and useful Linux command line tools●How to write Bash scripts and automate your command line workflow●How to program in C++ and Python●How to understand and think about high-level programming concepts in order to become a better programmer in the end●The differences between functional and object-oriented programming and how they apply to youYou may be absolutely stumped and not know where to look. However, this book will teach you everything you need to know - and fast! Without mincing words, the book teaches you two programming languages, how to write scripts, and how to navigate the Linux command line very well.So what are you waiting for? Pick up a copy of this bundle books now and get to programming on Linux like a master!Excel is a tool whose prevalence is only matched by how little most people actually know about it. If you use Excel on a regular basis, even it is only for seemingly basic tasks, there are likely dozens of ways you can streamline the process, saving yourself countless hours in the process. The programming language is known as Visual Basic for Applications and it operates using Visual Basic 6, a simple type of programming language, which, once you get the hang of it, can be used throughout the Microsoft Office Suite of products. Inside you will find step by step instructions that will lead you through the process of creating your very first macro before expanding on that knowledge in a wide variety of ways to ensure that you will have the tools you need to create macros that will be able to handle a wide swath of commonly used tasks. It doesn't matter what your current familiarity with Excel is, once you master VBA, you'll have Excel purring like a kitten.Inside you will find:
•The easiest way to access the VBA potential hiding inside all of Microsoft Office's products
•Simple steps to associate macros with data pulled directly from Excel worksheets and cells
•Tips for utilizing an identifying a wide variety of different key variables
•Key points to consider when writing if/then statements
•Simple ways to replicate a variety of process across multiple cells or worksheets
•A variety of options when it comes to finding specific sections of data amongst complicate strings
•Common mistakes that novice VBA programmers make and how to avoid them
•Debugging and error solving tips
•And more…So, What are you waiting for? Grab this Powerful pack of Bundle books which teaches you all about Excel Programming from A-Z.
Feel Free to contact me for book requests, informations or feedbacks.
Without You And Your Support We Can't Continue
Thanks For Buying Premium From My Links For Support