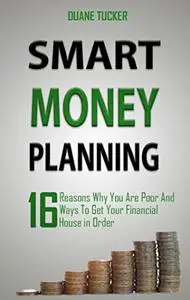 SMART MONEY PLANNING: 16 Reasons Why You Are Poor And Ways To Get Your Financial House In Order by DUANE TUCKER
English | 2022 | ISBN: N/A | ASIN: B09Z62J1NL | 51 pages | EPUB | 0.13 Mb
SMART MONEY PLANNING: 16 Reasons Why You Are Poor And Ways To Get Your Financial House In Order
Are you financially independent? Examine your bank account and other assets to find an answer to that query. You are not required to speak it aloud. As you read this, you will notice that you should be able to tell if you are
wealthy or not. If you have already achieved financial independence, I congratulate you! However, if you said no, This is the most important book you will ever read, in response to the question above. This is why: I shall reveal to you the reasons for this in this book. Why aren't you wealthy yet? Not only that, but I'll expose
something to you. What are your options for dealing with them?
Allow me to explain. You see, if you're not affluent, it simply means that you do things that prohibit you from achieving that degree of wealth. I'm here to help you figure out what those "things" are so you can change them. Not only that, but after you make those changes, I guarantee your financial condition will improve faster
than you ever expected. That's a promise you can bank on! I've put up a list of 16 Reasons why you aren't a billionaire yet Examine how many of these reasons apply to you, and then make necessary changes.
Do you have everything you need? Let's get this started,
Feel Free to contact me for book requests, informations or feedbacks.
Without You And Your Support We Can't Continue
Thanks For Buying Premium From My Links For Support