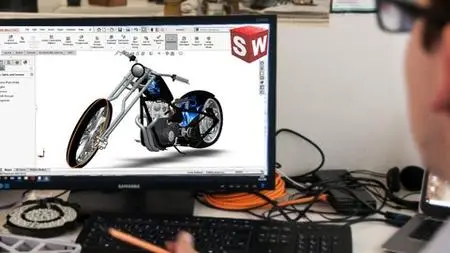 SOLIDWORKS 2019 : Basic to Advance complete course 2017-2021
MP4 | Video: h264, 1280x720 | Audio: AAC, 44.1 KHz
Language: English | Size: 7.05 GB | Duration: 9h 16m
How to use solidworks19 : from sketching to rendering step by step guide With downloadable handbooks of solidworks tool
What you'll learn
Introduction and history of CAD and SOLIDWORKS.
How to navigate SOLIDWORKS interface.
How to sketch with different sketch commands.
How to use number of different features to create 3D models.
How to add different materials for your models.
How to use sheet metal commands.
How to use different surface modeling tools to create surface models.
How to create structural members using weldment tools.
How to assemble different parts into an assembly file.
How to generate drawings from parts and models.
How to interpret different drawing annotations.
how to use rendering tools.
How to render a model to apply photo realistic effect.
Click the 'take this course' button, top right, now… Every hour you delay is costing you great creations and skills :)
Requirements
No prior knowledge. Just the desire to learn and create awesome stuff.
Good internet connection.
You will need SOLIDWORKS 2013 or newer (upto 2020) for practice.
Description
This is a complete course to take you from knowing nothing about SOLIDWORKS to give you all the knowledge and skills needed to become a CAD designer. This course should enable you to, with confidence, use SOLIDWORKS to design your innovation. After this course, you can proudly list your SOLIDWORKS skills in your resume.
introductory course helps students become familiar with Solidworks and its industry applications as a solid modeling design software program. It usually assumes a basic knowledge of drafting and the materials typically used in manufacturing. In fact, some programs require prerequisite courses in CAD and manufacturing materials to ensure students get the most out of the Solidworks course. Course lessons focus on the design methods used to create 3D solid models and convert them to computer design files.
*You can perfectly follow this course if you have SOLIDWORKS versions 2013, 2014, and up to 2021. However, this course is created using SOLIDWORKS 2019.
What makes this course special? :
With this course, you will get:
Full, free lifetime access to 27 lectures.
15 + downloadable resources. (Solidworks handbooks and Exercise books -pdfs about operations/tools)
Unconditional Udemy 30 days money-back guarantee - We are sure you would love the course though :)
free bonus additions to increase your knowledge. - with lots of fun topics!
––––––"let's grab the opportunity to start your journey to become SOLIDWORKS professional.–––––-
Who this course is for:
Anyone wanting to get started with 3D modeling.
Anyone intending to learn the basics of SOLIDWORKS.
Individuals wanting to list SOLIDWORKS skills in their resume.
Anyone wanting to get a better job via SOLIDWORKS skills.
Designers, Engineers, Makers, and Hobbyist.