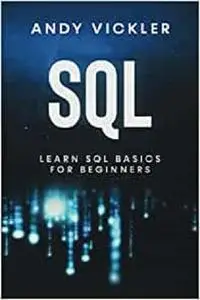 SQL: Learn SQL Basics For Beginners by Andy Vickler
English | July 1, 2021 | ISBN: N/A | ASIN: B098G8X6C2 | 267 pages | EPUB | 0.41 Mb
Are you thinking about
learning SQL
, but not sure where to start?
Big data is prevalent now, with more data than we ever dreamed possible being made available . And all that data needs to be stored in such a way it can be easily accessed.
That's where databases and SQL come in, providing the means to manage and interpret data easily. SQL is the go-to language for database management, the most reliable and widely used, and it's showing no signs of losing its popularity.
This SQL guide for beginners covers all the basics you need to know about working with data and databases. The book is divided into six parts and includes instructions on downloading a sample database to work with throughout.
In this guide, you will learn:
How to install SQL Oracle
How to query data
How to sort and filter tables
Using the SELECT statement
Using the ORDER BY and WHERE clauses
Oracle operators
All the different Oracle Joins, including INNER, OUTER, LEFT, RIGHT, and more
How to create and alter tables
SQL data types
And much more
If you are interested in learning SQL, this is the best place to begin and set yourself on course to become a master SQL programmer.
Feel Free to contact me for book requests, informations or feedbacks.
Without You And Your Support We Can't Continue
Thanks For Buying Premium From My Links For Support