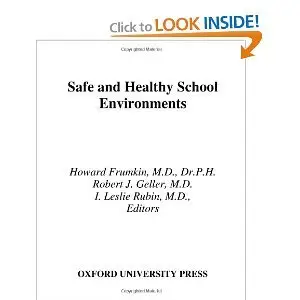 Safe and Healthy School Environments
Oxford University Press, USA; 1 edition | August 3, 2006 | ISBN-10: 0195179471 | 480 pages | PDF | 4.8 Mb
Millions of children and adults across the nation spend their days in school buildings, and they need safe, healthy environments to thrive, learn, and succeed. This book explores the school environment using the methods and perspectives of environmental health science. Though environmental healht has long been understood to be an important factor in workplaces, homes, and communities, this is the first book to address the same basic concerns in schools. The editors are physicians and educators trained in pediatrics, occupational and environmental medicine, and medical toxicology, and the authors are experts in their fields drawn from across the United States and abroad. Each section of the book addresses a different concern facing schools today. In the first six sections, the various aspects of the school environment are examined. Chapters include the physical environment of the school, air quality issues, pest control, cleaning methods, food safety, safe designs of playgrounds and sports fields, crime and violence prevention, and transportation. In the last two sections, recommendations are made for school administrators on how to maximize the health of their schools. Appropriately evaluating the school environment, implementing strategies to address children and adults with disabilities, emphasizing health services, infectious disease prevention and recognition, and occupational health for faculty and staff are all addressed. The entire book is evidence-based, readable, generously illustrated, and practical. An indispensable resource for parents, school staff, administrators, government officials, and health professionals, this book is for anyone who cares about the health of our schools.