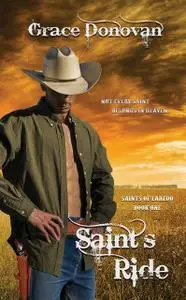 «Saint's Ride» by Grace Donovan
English | EPUB | 0.2 MB
Evie Delano had walked away from a life of luxury and privilege many people would kill for. Forging her own place in the unforgiving West, she had finally found some measure of peace. All she ever wanted was to be left to live her life as she chose, but her father, a wealthy politician, would never let a valuable asset go to waste, especially not his daughter.
Jack Hannity had fought his way up from a darkness most people could never imagine. For years, he was a rogue, a thief, and worse, a killer. And then the Saints rescued him, and he rode to save lives, hoping to make up for the man he'd once been. When the Saints fell, Jack turned to hunting bounties.
When Warren Delano put a bounty out on his own daughter to bring her home, Jack took the contract, knowing she wouldn't come willingly. They never did. This should have been an easy ride. All he had to do was to get her home before she got them both killed.