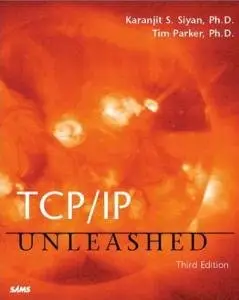 "TCP/IP Unleashed, 3rd Edition" by Karanjit S. Siyan, Tim Parker
Publisher: Sams | Feb 20, 2002 | ISBN: 0672323516 | PDF | 6.71 Mb | 1120 Pages
TCP/IP Unleashed, Third Edition, explains the features and complexities of the TCP/IP protocol suite in a comprehensive, logical format. The book is designed for easy reference and incorporates step-by-step guidelines and configuration examples to enhance the reader's learning experience. Our expert authors walk through the fundamentals of TCP/IP before moving on to more challenging topics including naming and addressing, IPv6, routing, implementation, TCP/IP applications, and TCP/IP network administration. TCP/IP Unleashed has been revised to include the latest implementation information and real-world experiences, including configuring TCP/IP for Linux and Windows 2000 systems.