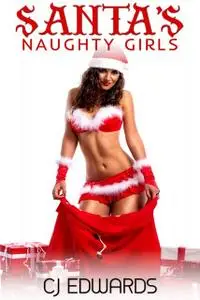 «Santa's Naughty Girls» by C.J. Edwards
English | EPUB | 1.7 MB
A sizzling collection of 3 Santa Sex stories. Guaranteed to get you in the party mood!
 Santa Empties His Sack — Christmas Eve night and nothing stirred in the house — except Marianne! The pretty young housewife and mother just couldn't sleep. She and her husband had done the Santa thing and hit the sack but he had been snoring for hours and she just couldn't get off. Then a noise alerted her to the possibility of burglars. Unable to wake her husband, she tiptoed out herself… to be confronted by a very authentic Santa! He wasn't there just to leave presents for the kids though. Oh no, he had come for his own Christmas present — Marianne!Xmas Cums But Once a Year — Nicky had everything going for her: money, looks, health, intelligence, etc. Apart from one thing that was. There was no man in her life! Still, she looked forward to her annual trip to Santa's Grotto with her beloved nephew. This year was going to be different though, the grotto was so magical. So real! After little Jay had had a wonderful time with Santa, Nicky got a special invitation. Santa's grotto was opening for adults that evening. Or at least for selected adults! Nicky was curious enough to go along, unaware her life was about to change for good!12 Horny Days of Xmas — A pretty, innocent young wife left on her own over the Xmas period. What is she to do? Then the presents start arriving; one for each of the twelve days running up to Christmas and each one more and more arousing. Harriet is aroused and corrupted; each gift leading her further down a path she's unlikely to return from… a path than leads to its climax on Christmas Day! Buy yourself a Christmas present that is BOUND to bring you pleasure!