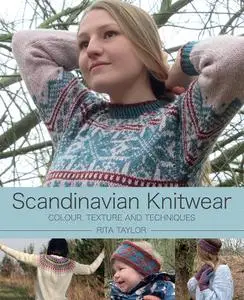 Scandinavian Knitwear: Colour, Texture and Techniques by Rita Taylor
English | May 26th, 2020 | ISBN: 1785006657 | 192 pages | EPUB | 71.70 MB
Scandinavian Knitwear encourages the knitter to take inspiration from the brightly coloured and textured designs of the traditional knits and the invigorating landscape of the Nordic region to design your own 'Scandi knits' and create unique designs using traditional techniques. The author takes you through the process of formulating ideas, learning about colour, absorbing the local history and finally creating a piece of knitting that has all the flavours of this fascinating region.
With full chapters on Norway, Sweden, Denmark and the Faroe Islands, coverage includes: the history of knitting and its development in Scandinavia; explanation of various techniques, such as accurate measuring, stranded colourwork and grafting; a full explanation of colour theory; exploration of the development of knitting and the characteristic styles of each country in the region; A 'Stitch Dictionary' of patterns and motifs, with charts that can be modified to suit the skill and style of the knitter; Nineteen complete, original patterns for garments, accessories, and homeware; a chapter of schematics with advice on design development and sizing options.
Enjoy
My Blog.
No any convert or low quality!