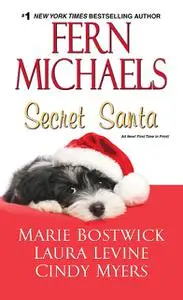 «Secret Santa» by Cindy Myers, Fern Michaels, Laura Levine, Marie Bostwick
English | EPUB | 3.1 MB
Christmas is the time for miracles, mayhem, and holiday romance in these wonderful stories from four of today's most beloved authors. . ."Mister Christmas" by Fern MichaelsA week before Christmas, attorney Claire O'Brien is summoned to Ireland to change her wealthy client's will–only to encounter resistance from his handsome nephew. Will Claire be forced to spend the holidays up close and personal with her irresistible Irish nemesis? "The Yellow Rose of Christmas" by Marie BostwickThough Miss Velvet Tudmore wrote off romance years ago, rumor has it she has a secret admirer. And when her surprise suitor promises to reveal himself at the annual Christmas ball in Too Much, Texas, Velvet starts to wonder: is it ever too late to find love? "Nightmare on Elf Street" by Laura LevineAside from the mortifying costume, how bad can a gig as a mall Santa's elf be? Jaine Austen finds out when she's teamed up with the Santa from Hell. But things go from bad to worse when he's found murdered on the job–and Jaine is a suspect. Now all she wants for Christmas is to find the real killer. . ."Room at the Inn" by Cindy MyersWhen a Rocky Mountain blizzard forces Barb and her husband to spend Christmas in a remote Colorado cabin with their fellow travelers, Barb struggles to cope–especially when her husband reveals troubling news. But sometimes a holiday shake-up is all a woman needs to discover what she's truly made of. . ..