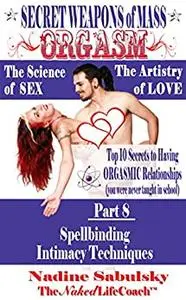 Secret Weapons of Mass Orgasm: The Science of Sex & The Artistry of Love: Spellbinding Intimacy Techniques by Nadine Sabulsky
English | August 31, 2016 | ISBN: N/A | ASIN: B01LDF0OSS | 69 pages | PDF | 0.44 Mb
Ranked #1 in Human Sexuality - see why!
"Nadine Sabulsky does it again with a very good read. Bravo! This is not only an insightful read into the sexual mind, but also the psyche itself. With a great amount of knowledge, the author also adds in her own personal experiences that help the reader really identify with each and every example mentioned here. Nadine has continued her exploration into the sexual side of human nature, as well as the understanding of how it relates to the comprehension of one's own self being, and our need for passion and joy in the process of relationships. I recommend this to anyone who wants to enjoy their life with an in depth sexual exploration that also helps, not just in that process but with life itself and its many trials and tribulations. Get this book. You'll NOT be disappointed."
- Geo Brawn IV
With a world in turmoil, perhaps we can make the world a better place, one human at a time, starting with sexual education. Most places in the world teach our youth very little about what it means to be human, how our minds, bodies, and emotions work, and most of all, what it takes to create great relationships, let along how to be exceptional lovers. However, all of this is a learnable skill-set!
Whether you're single or in a relationship, "straight", or LGBTQ, or in an alternative lifestyle, relationships are undoubtedly one of, if not THE most important aspect of our lives. Yet, even though there are classes for cooking, driving, and other useful skills, for some strange reason we're never taught the skills that make relationships truly awesome!
Enter The Naked Life Coach. Her approach is down to earth, readable, and most of all enlightening. Breaking down relationships and human sexuality into their component parts, she takes you step by step through a re-education that will rock your world! From the factors that attract us, through examining common relationship structures and pitfalls, learning communication skills and emotional management, and into the bedroom behaviors that make love work for all partners, she'll guide you to a better understanding of yourself, as well as how to enhance your relationships on all levels, whether friends, family, co-workers or lovers. This information will strengthen all your relationships as well as boost your entire life to a new level of awareness and joy.
Now you can learn the secret ingredients that will increase your emotional IQ, help you resolve conflicts, heal yourself from past emotional wounds, and, let's not forget, have fabulous sex! In fact, your entire LIFE will become orgasmic!
This book is a no-holds-barred, tell-all how-to guide which will allow you to create true happiness and fulfillment in life. You'll be able to love like a maestro, and know what to do (both in and out of the bedroom) in any type of relationship!
Finally, complete sex education, spanning everything from the latest knowledge of metaphysics, neuroscience, and biology, to attraction, communication & emotional management, negotiation & boundary setting. Beyond flirting, to in the bedroom, sexual positions & techniques, self-pleasure, and different types of orgasms, you'll also get a clear look at different lifestyles; from Tantra to BDSM, LGBTQ, Poly, more!
Topics in this chapter
· Techniques to Build Intimacy
· Foreplay
· Body Talk & Types of Touch
· Types of Touch
· Oral, Vaginal & Anal Intercourse
· Kink, BDSM, Role-Play & Fetishes
· Build Your own Sexual/Romantic/Intimacy "Bucket List Game"
· Other Sexy Games
· Tantric Sex Practices
Feel Free to contact me for book requests, informations or feedbacks.
Without You And Your Support We Can't Continue
Thanks For Buying Premium From My Links For Support