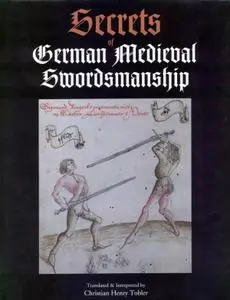 Christian Henry Tobler - Secrets of German Medieval Swordsmanship: Sigmund Ringeck's Commentaries on Master Liechtenauer's Verse
Chivalry Bookshel | 2001 | ISBN: 1891448072 | English | 402 pages | PDF | 115.79 MB
Medieval Fighting with the German Masters Christian Henry Tobler presents a beautifully interpreted study of fighting techniques recorded in the mnemonic verse of the legendary German swordmaster, Johannes Liechtenauer. Johannes Liechtenauer was a 14th century German fencing master born in the mid 1300s. Some of Liechtenauer's teachings were preserved in rhyming couplets, possibly done so to prevent the uninitiated from learning the techniques he presented. Christian presents his interpretation in a style that is readable, translating the original and then providing a practical interpretation of each technique. At once bold and martially efficient, these classic techniques of swordsmanship have proven their enduring allure. In this second reissue of a classic work, Chivalry Bookshelf offers students of martial arts, of martial culture during the middle ages, fencing historians, reenactors and students of medieval history.