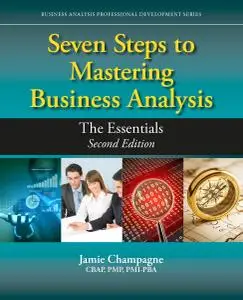 Seven Steps to Mastering Business Analysis: The Essentials (Business Analysis Professional Developme) by Jamie Champagne
English | March 23rd, 2020 | ISBN: 1604271604 | 284 pages | EPUB | 3.72 MB
This volume presents a detailed explanations of business analysis concepts, terms, tasks, and techniques, and includes examples to help readers understand how to apply them to real-world situations. It also delineates the key activities that are core to the BA role and the diverse range of activities analysts perform based on their career competency level, ranging from problem solving and identification of business opportunities, to complex systems thinking and solution development, to strategic planning and change management. It is a must-have reference for BA generalists, specialists, and hybrids at every career level and industry segment or perspective.
Enjoy
My Blog.
No any convert or low quality!