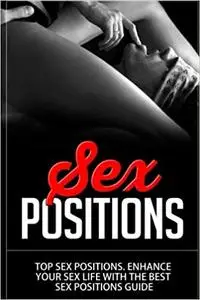 Sex Positions: Top Sex Positions. Enhance Your Sex Life With The Best Sex Positions Guide by SelfHelpStar Media
English | 2015 | ISBN: 1518880584 | 35 pages | EPUB | 0.17 Mb
Top Sex Positions. Enhance Your Sex Life With The Best Sex Positions Guide. Is your relationship going stale? Do you think that there's just nothing interesting about your partner anymore and maybe it's time to move on to the next one? Before you do that, have you ever looked into giving what you have a booster shot and saving the relationship you have with your partner? Well, the first thing you both need to do is talk about the things that matter first and why your relationship is worth saving. After that, you need to look into what's happening inside your bedroom. Sometimes, the root cause for a relationship failing is because over the course of time, as more responsibilities come your way and in between you and your partner, you overlook the basics of making a relationship work. One of the things that can make or break a relationship is the level of intimacy you give to one another—and yes, we're talking about sex. Physical interaction and intimacy are highly important to keep your relationship going. It's a very basic human trait to want to be with someone and to have physical contact. Some people may say "We are still having sex, so why isn't our relationship working?" Well, have you asked yourself if you're having sex just for the heck of it leading to boredom? Good news for you then! This book, "Sex Positions: Top Sex Positions. Enhance Your Sex Life With The Best Sex Positions Guide," is all about giving you and your partner new things to experiment on to keep things interesting in and out of the bedroom. This book will list the basics of sex and what you need to understand before you can tackle the more risqué sex positions included. Also, if you're really kinky enough, go on to using the things around you and your environment to make hot and steamy sex possible again. Furthermore, another chapter tackles the use of toys which will allow you to engage in your sexual fantasies without jeopardizing your relationship with your partner. Not only will this make your life better with more knowledge about sex positions and instructions on how to do each one, but it can lead to more interaction with your partner. For example, since some of the positions listed in this book require a certain level of athleticism and flexibility, you and your partner can engage in physical activity that will improve your muscles, cardio vascular activity, and endurance. The end result is you will become healthier and thus definitely more capable of performing the sexual acts listed in this book. Not only does this book aim to improve your sex life but it will also improve the way you talk to your partner as some of the positions may need a little bit of discussion to see if your partner is open to the idea of performing them. So there you have it—all of the benefits that you can derive from this book not just sexually but also on an emotional and social scale! So limber up and start reading and pick a position to engage in everyday to give your relationship that much needed jolt that will bring it back to life!
Feel Free to contact me for book requests, informations or feedbacks.
Without You And Your Support We Can't Continue
Thanks For Buying Premium From My Links For Support