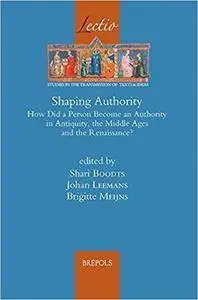 Shaping Authority: How did a person become an authority in Antiquity, the Middle Ages and the Renaissance? by Shari Boodts, Johan Leemans, Brigitte Meijns
English | 2016 | ISBN: 2503568238 | 458 Pages | PDF | 3.7 MB
The cultural and religious history from Antiquity through the Renaissance may be read through the lens of the rise and demise of auctoritates. Throughout this long period of about two millennia, many historical persons have been considered as exceptionally authoritative. Obviously, this authority derived from their personal achievements. But one does not become an authority on one's own. In many cases, the way an authority's achievements were received and disseminated by their contemporaries and later generations, was the determining factor in the construction of their authority. This volume focuses on the latter aspect: what are the mechanisms and strategies by which participants in intellectual life at large have shaped the authority of historical persons? On what basis, why and how were some persons singled out above their peers as exceptional auctoritates and by which processes did this continue (or discontinue) over time? What imposed geographical or other limits on the development and expansion of a person's auctoritas? Which circumstances led to the disintegration of the authority of persons previously considered to be authoritative? The case-studies in this volume reflect the dazzling variety of trajectories, concerns, actors and factors that contributed over a time span of two millennia to the fashioning of the postmortem and lasting authority of historical persons.