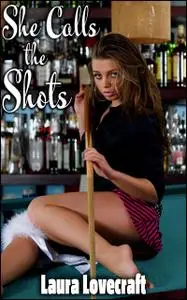 «She Calls The Shots» by Laura Lovecraft
English | EPUB | 1.3 MB
Recently divorced Marcus has decided he needs to get back to who he is. For years he dressed and acted the part of the urban professional like his wife wanted to, but not anymore. Now dressing and acting much more like himself, the only thing left for Marcus is to have some fun, but he has no idea where to start.
His best friend Kevin tells him to meet him at a hole-in-the-wall biker bar, but ends up not being able to make it. Not that Marcus minds, because while he was waiting for his friend, Marcus meets Allie, the gorgeous young daughter of the bar owner.
 Allie isn't just hot, she's made it clear she likes older men, and is more than ready to give Marcus a chance to get back in the saddle. Out-of-practice Marcus finds himself unsure of the next move, but luckily for him, the sexually precocious Allie is calling the shots…right there on the pool table.