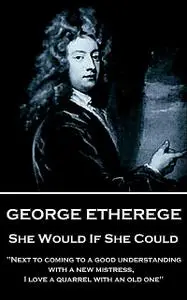 «She Would if She Could» by George Etherege
English | EPUB | 0.0 MB
George Etherege was born in Maidenhead, Berkshire, around 1636, the eldest of six children to George Etherege and Mary Powney. Little is known of much of his life and especially his early years. He was educated at Lord Williams's School and the next sighting of him is as apprentice to a lawyer before he himself began to study law at Clement's Inn, London, one of the Inns of Chancery. Thereafter conjecture attributes many things to him but none that can be confirmed as fact. However, after the Restoration to the throne of Charles II in 1660 he wrote his first comedy; The Comical Revenge, or, Love in a Tub, which also brought him to the attention of Lord Buckhurst, who later became the Earl of Dorset. The Comical Revenge was performed at the Duke's theatre in 1664 although other accounts say it was premiered at Lincoln's Inn Fields. It is written partly in rhymed heroic verse and contains several comic scenes that are refreshingly bright, especially in the context of other plays performed at the time. The verbal sparring between Sir Frederick and the Widow was a new departure for the stage and it worked brilliantly. An immediate success, it had followed much of the earlier traditions of theatre but had already begun to lay the foundations for what would become the comedy of manners. It gave him an immediate entrée to a world of literary rakes, including Sir Charles Sedley, John Wilmot, the earl of Rochester and many of the roguish elements of the Court circle. He seemed easy-going and amiable and his nicknames seem to confirm this; "gentle George" and "easy Etheredge." Whether this rich life of gaudy pleasures hindered his writing or not it would be another four years before his next play would be finished and performed. In 1668 She Would If She Could, a comedy full of action, wit and spirit, came to the stage. Although it was also seen by others to be frivolous and immoral. However, the play does cement Etheredge's modern reputation as a powerful figure in English playwriting. The play dropped the romantic verse element to concentrate on flirtation for flirtations own sake. It was a radical departure. Unfortunately, it also flopped. It is said due to bad acting but the sudden movement away from the normal structure of a play may equally be the reason. Etheridge now departed on new adventures and between 1668 and 1671 Etherege resided in Constantinople as the secretary of the English ambassador, Sir Daniel Harvey. Returning once more to English shores he wrote the prologue for the opening, in 1671, of the new Dorset Garden Theatre. In 1676 his last and wittiest comedy, The Man of Mode; or, Sir Fopling Flutter, was brought to the stage. It was an immediate and over-whelming success. He was acclaimed. A writer being the sum of his own experiences it was widely believed that the play's characters paint comic pictures of several of his well-known contemporaries. Sir Fopling Flutter himself being a portrait of Beau Hewit, the reigning exquisite of the hour, Dorimant a reference to John Wilmot, the Earl of Rochester, and Medley a portrait of Etherege himself or fellow playwright and wit Sir Charles Sedley. Even the drunkard shoemaker was a real character, who made his fortune from being brought to public attention. After this brilliant success Etheredge retired from literature, and a few years later had lost much of his new fortune to gambling. Etherege was knighted in either 1679 or 1680 and went on to marry the wealthy widow Mary Sheppard Arnold. In March, 1685 he was appointed resident minister in the imperial German court at Regensburg. After three and a half-year's residence and the Glorious Revolution, he left for Paris to join James II in exile. He died in Paris, probably in late 1691, although the date and cause of death are uncertain.