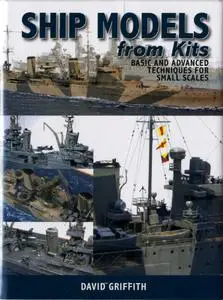 David Griffith - Ship Models From Kits: Basic and Advanced Techniques for Small Scales
Seaforth Publishing | 2009 | ISBN: 1848320248 | English | 144 pages | PDF | 40.33 MB
The world of model kits has undergone a revolution, with new techniques in injection molding vastly improving the scale accuracy and surface detail of the standard plastic kit and new material producing top-quality resin models. In ship modeling, this has resulted in a new form of the hobby midway between traditional build-from-the-box simplicity and the time-consuming demands of fabricating everything from scratch. This new manual comprehensively demonstrates these new innovative techniques. Designed for modelers wishing to achieve the best results from their ship kits in the 1:700 to 1:350 range of scales, it uses 200 step-by-step color photographs to take the reader through the building of two models, one in plastic and one in resin, from basic construction, fittings, and detailing, to painting, finishing, and display. This book is an essential guide to a contemporary approach to model making.