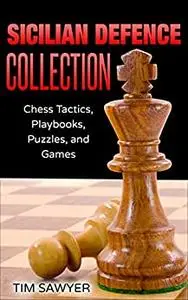 Sicilian Defence Collection: Chess Tactics, Playbooks, Puzzles, and Games by Tim Sawyer
English | 2021 | ISBN: N/A | ASIN: B0968VNJM6 | EPUB | 11 Mb
This
Sicilian Defence Collection
book covers 1.e4 c5 positions and games taken from several Tim Sawyer chess books which include
Sicilian Tactics
(all 500 positions),
Main Line 1…c5 Playbook
(the 100 positions from the Sicilian as Black),
Main Line 1.e4 Playbook
(the 80 positions from the Sicilian as White),
Sicilian Defence Puzzles
(all 200 positions), and
Sicilian Defence 1.e4 c5 - Second Edition
(all 184 games plus 16 bonus games).
All the above books are available separately in paperback or in Kindle eBook. This combined collection is 1100 pages and only available in Kindle eBook. The Table of Contents for this volume has been simplified from the original books to the large size. At the end of the book is an Index of Player Names to Games.
Sicilian Defence chess games begin 1.e4 c5. This book covers such variations Smith-Morra Gambit, Alapin Sicilian, Grand Prix, Closed Nc3, Rossolimo, Open Sicilian, Kalashnikov, Sveshnikov, Accelerated Dragon, Taimanov, Kan, Moscow, Richter Rauzer, Dragon Sicilian, Scheveningen, English Attack, Keres Attack, Classical Be2, Sozin, Velimirovic, and Najdorf Sicilian Defence.
About half the games in this book were played by the author. Many were against masters, experts and club players over 50 years of play. In addition to his own games, you could benefit from the author's lifetime study of grandmasters who play the Sicilian Defense. They include Paulsen, Lasker, Capablanca, Alekhine, Nimzowitsch, Kotov, Botvinnik, Polugaevsky, Korchnoi, Tal, Petrosian, Spassky, Fischer, Larsen, Karpov, and Kasparov of old. Modern players include Anand, Leko, Gelfand, Ivanchuk, Nunn, Shirov, Svidler, Topalov, Caruana and Magnus Carlsen.
Feel Free to contact me for book requests, informations or feedbacks.
Without You And Your Support We Can't Continue
Thanks For Buying Premium From My Links For Support