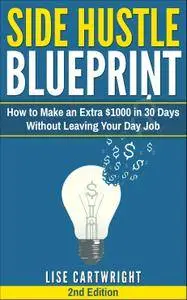 Side Hustle Blueprint: How to Make an Extra $1000 in 30 Days Without Leaving Your Day Job, 2nd Edition by Lise Cartwright
English | October 26th, 2016 | ASIN: B01MG5VIVM, ISBN: 1539370402 | 162 pages | AZW3 | 0.45 MB
Argh, don't you hate it when you can't have the things you want, or do the things you want to do? Are you sick of trying to figure out HOW you're going to achieve all you want to do in your life with the money you're currently earning?
I get it. You want to do everything and find it FRUSTRATING that you don't earn what you're worth, which means you can't provide for your family or get even close to achieving your dreams.
So what can you do? What are your options?
YOU COULD TRY THESE:
#1: Apply for a personal loan, only to get rejected?
#2: Ask for a raise at work, only to be laughed at?
#3: Apply to increase your credit card limit, only to overspend it?
If you want to stop struggling and take back control of your life, then you need a plan.
You need a way to earn some extra cash, without putting your day job at risk…
In the Side Hustle Blueprint (2nd Edition), you'll get access to a hands-on and step-by-step guide that teaches you how YOU can get yourself out of debt, earn more cash, and doing more of what you love.