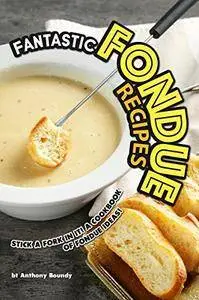 Fantastic Fondue Recipes: Stick a Fork in It! A Cookbook of Fondue Ideas! by Anthony Boundy
2018 | ISBN: 1719206724 | English | 88 pages | PDF | 2.7 MB
Do you love sharing fun foods with others? Nothing brings a hungry group of friends or family together faster than a fondue party. You can use the fondue pot for regular meals, too. Fondues were originally served in Switzerland, and at that time they mainly used melted cheese in one pot, heated with a candle. They dipped bread into the pot using long-stemmed fondue forks. Much of that remains the same today, except there are SO many different sauces and SO many different things used for dipping. Would you like to integrate fondue treats into your recipes at home? If so, you've come to the right place. This cookbook has all kinds of fondue ideas for you. Fondue is crowd-pleasing, fun and easy. It brings everyone together to the same pot of dipping sauce, and the experience can be fun for kids and adults alike. Some of these recipes include alcohol, clearly marked, and those are adults-only fondues. Invite some friends over this week and have a fondue party! They're a blast!