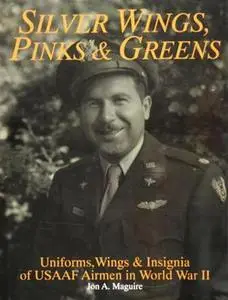 Jon A. Maguire - Silver Wings, Pinks and Greens: Uniforms, Wings & Insignia of USAAF Airmen in World War II
Schiffer Publishing | 1994 | ISBN: 0887405789 | English | 194 pages | PDF | 158.77 MB
This new look at the uniforms and insignia of the USAAF during the World War II years covers a broad range of clothing, collar insignia, rank insignia, shoulder/sleeve insignia and squadron patches. Additionally, there is an in-depth examination of wing qualification badges. Actual items are presented in nearly 600 illustrations in full color, and also as they appeared in actual war-era photos. Actual uniform regulations and illustrations from the 1943 and 1944 Officers Guides are also provided. Silver Wings, Pinks & Greens will be a useful addition to the libraries of collectors, historians, modelers and veterns alike.