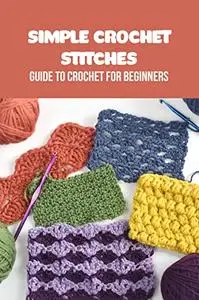 Simple Crochet Stitches: Guide to Crochet for Beginners: Crochet Stitches by BRAD MARVIN
English | 2021 | ISBN: N/A | ASIN: B09MQG46HT | 82 pages | EPUB | 5.81 Mb
Crochet hooks come in many sizes, from very fine steel hooks, used to make intricate doilies and lace, to larger hooks made of aluminum, plastic or wood, used to make afghans, clothing and household items. The hooks you will use most often are about 6 inches long and are sized alphabetically from B (the smallest) to Q (the largest).
The crochet hook is the most important tool you will use in learning how to crochet, so it is important to understand each part and its function.
Feel Free to contact me for book requests, informations or feedbacks.
Without You And Your Support We Can't Continue
Thanks For Buying Premium From My Links For Support