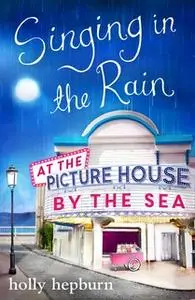 «Singing in the Rain at the Picture House by the Sea» by Holly Hepburn
English | ISBN: 9781471161681 | EPUB | 0.5 MB
Part Two in the brilliant new series from the bestselling author of the Star and Sixpence series. Perfect for all fans of Cathy Bramley.
Gina has returned to her grandparents in the picturesque Cornish town of Polwhipple, to help run the Italian family's ice-cream business while her grandfather recovers from an accident.
Dismayed to find her old haunt from childhood visits to Polwhipple, the little picture house by the sea, in a state of disrepair, Gina is determined to help. Long past its heyday now, the little art deco cinema needs all the love it can get. With the help of her old friend Ben, Gina goes to the town's committee to ask for funding to renovate the hearthstone of Polwhipple's community. And what better way to prove the little picture house's worth, than by throwing another fantastic themed screening, complete with an exotic new Ferrelli flavour…
But Ben's activities are closely watched by his old flame, the venomous Rose Arundell, who is determined to get her claws into him once more. Rose is used to getting what she wants – the trouble is, Gina is starting to wonder if she and Rose want the same thing…
~*~ If you enjoyed part two in the PICTURE HOUSE series, download part three – Dirty Dancing at the Picture House by the Sea – now! ~*~
'Fabulously feel-good, funny and fresh, it will sweep you off your feet' Rowan Coleman
'Pure pleasure, a delight from opening credits to closing reel' Julie Cohen
'Deliciously romantic and sprinkled with the magic of the movies – it's the perfect treat!' Miranda Dickinson
What people are saying about the STAR AND SIXPENCE and the CASTLE COURT series:
'Warm, witty and laced with intriguing secrets' Cathy Bramley
'The perfect book to start the new year' Rowan Coleman
'A treasure of a find and I was completely enveloped within this world from the very first page. 5 stars!' Becca's Books
'A thoroughly lovely and entertaining read!' Book Kaz
'A charming story with real characters and an idyllic setting' Fictionophile