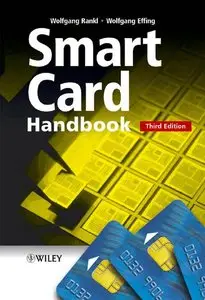 Marc, "Smart Card Handbook"
Wiley; 3 ed | 2004 | ISBN: 0470856688 | 1120 pages | PDF | 11 MB
Building on previous editions, this third edition of the Smart Card Handbook offers a completely updated overview of the state of the art in smart card technology. Everything you need to know about smart cards and their applications is covered! Fully revised, this handbook describes the advantages and disadvantages of smart cards when compared with other systems, such as optical cards and magnetic stripe cards and explains the basic technologies to the reader. This book also considers the actual status of appropriate European and international standards.
Features include:
New sections on:
* smart card applications (PKCS #15, USIM, Tachosmart).
* smart card terminals: M.U.S.C.L.E., OCF, MKT, PC/SC.
* contactless card data transmission with smart cards.
Revised and updated chapters on:
* smart cards in the telecommunications industry (GSM, UMTS, (U)SIM application toolkit, decoding of the files of a GSM card).
* smart card security (new attacks, new protection methods against attacks).
* A detailed description of the physical and technical properties and the fundamental principles of information processing techniques.
* Explanations of the architecture of smart card operating systems, data transfer to and from the smart card, command set and implementation of the security mechanisms and the function of the smart card terminals.
* Current applications of the technology on mobile telephones, telephone cards, the electronic purse and credit cards.
* Discussions on future developments of smart cards: USB, MMU on microcontroller, system on card, flash memory and their usage.
* Practical guidance on the future applications of smart cards, including health insurance cards, e-ticketing, wireless security, digital signatures and advanced electronic payment methods.
Only

ONE (1)

RS mirror, please