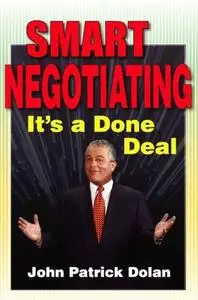 John Patrick Dolan "Smart Negotiating"
Entrepreneur Press | 2006-03-16 | ISBN: 1599180030 | 320 pages | PDF | 1,4 Mb
John Patrick Dolan is a top trial lawyer who knows that effective negotiating is essential for success in major enterprises or in the ordinary events of everyday life. In Smart Negotiating, he condenses the wisdom of years of experience into an entertaining and informative book that is a joy to read.
—Ed Meese, Former United States Attorney General
This is a must-read for anyone who wants to persuade, negotiate and communicate in our ever-competitive environment. John Patrick Dolan is a recognized expert with measurable experience and superb skills.
—Nido Qubein, President, High Point University, Chairman, Great Harvest Bread Co.
Negotiate anything with these can't-miss tactics:
The most important—and most overlooked—step in the negotiating process
How to counteract pressure tactics such as intimidation, manipulations and bluffing
The number one reason negotiations break down—and how to avoid it
Which strategy will always put you in the strongest bargaining position
Six proven ways to break an impasse
How to read your opponent and adjust your approach
–-No mirrors, please–-