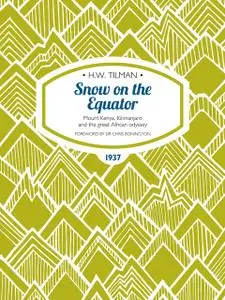 «Snow on the Equator» by H.W.Tilman, Jim Perrin
English | EPUB | 2.3 MB
To those who went to the War straight from school and survived it, the problem of what to do afterwards was peculiarly difficult.' For H.W. 'Bill' Tilman, the solution lay in Africa: in gold prospecting, mountaineering and a 3,000-mile bicycle ride across the continent. Tilman was one of the greatest adventurers of his time, a pioneering climber and sailor who held exploration above all else. He made first ascents throughout the Himalaya, attempted Mount Everest, and sailed into the Arctic Circle. For Tilman, the goal was always to explore, to see new places, to discover rather than conquer. First published in 1937, Snow on the Equator chronicles Tilman's early adventures; his transition from East African coffee planter to famed mountaineer. After World War I, Tilman left for Africa, where he grew coffee, prospected for gold and met Eric Shipton, the two beginning their famed mountaineering partnership, traversing Mount Kenya and climbing Kilimanjaro and Ruwenzori. Tilman eventually left Africa in typically adventurous style via a 3,000-mile solo bicycle ride across the continent-all recounted here in splendidly funny style. Tilman is one of the greatest of all travel writers. His books are well-informed and keenly observed, concerned with places and people as much as summits and achievements. They are full of humour and anecdotes and are frequently hilarious. He is part of the great British tradition of comic writing and there is nobody else quite like him.