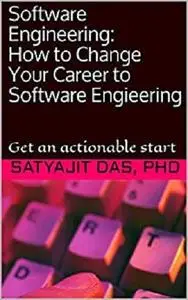 Software Engineering: How to Change Your Career to Software Engieering: Get an actionable start (Software Engineering, Career in Software, Software Developer, Computers, IT) by Satyajit Das
English | January 24, 2019 | ASIN: B07N378SL4 | 42 pages | AZW3 | 1.24 MB
Use These Proven Tips And Actionable Suggestions To Start A Career In Software Engineering Starting Today!
Have you ever been amazed by how drastically Software has changed our lives? Talking to your loved ones as if they are with you using WhatsApp, finding out answers to almost anything in seconds using Google, getting a ride instantly using Uber, ordering food at 4AM using Swiggy, and the list goes on. It seems Software engineers can create things that can have magical effect on our lives in a very short time.
Have you ever wondered YOU can be one of them creating Software that can change lives?
It is not as difficult as it may appear to get a head start towards becoming a Software engineer. It is possible to make yourself ready to create any kind of Software you want in a matter of 3 months.
This book talks you through everything you may need to know about how you can start your journey.
Here is a preview of what you will learn…
How to gain the required skills in a matter of 3 months
How to get help from experienced persons if you are stuck
How to apply for jobs effectively
Maximizing your chances in interviews
Best practices during coding that will make you stand out
How to be incredibly efficient literally at job