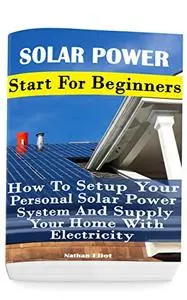 Solar Power: Start For Beginners: How To Setup Your Personal Solar Power System And Supply Your Home With Electricity: (Energy Independence, Lower Bills … Grid Living) (Self Reliance, Solar Energy) by Nathan Eliot
English | 2016 | ISBN: N/A | ASIN: B01LSR263C | 41 pages | Rar (PDF, AZW3) | 1.44 Mb
Solar Power: Start For Beginners:How To Setup Your Personal Solar Power System And Supply Your Home With Electricity
Solar energy is one of the most successful alternative energy sources currently available in the market. It works on a simple premise. Sunlight contains energy and when this hits the photovoltaic panels it provides power by releasing the electron and allowing it to move; this energy is harnessed and can be used to power any electrical item. Not all panels are equal; some have a better ability to absorb the energy from the sun and are more efficient at creating energy.
Perhaps the greatest benefit of this method of generating electricity is the simplicity of it. A solar energy system has very few components and can be put together by almost anyone. Of course, connecting to the main grid must be completed by a properly qualified person.
This book is designed to introduce you to the idea of creating your own solar energy; the following topics are covered:

A brief summary of the history and development of solar energy
The components which make up a viable solar energy system
How to install and set up your new solar energy system.
A range of tips to ensure your install is successful.
How to assess your electricity needs, your current consumption and how to reduce your consumption. This chapter also takes a brief look at the efficiency of solar panels.
The conclusion highlights the benefits of this impressive step forward in technology and how you can install it in your home.