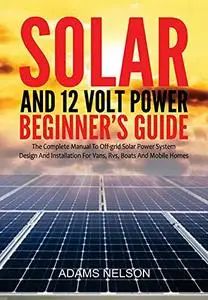 Solar and 12-Volt Power Beginner's Guide: The Complete Manual to Off Grid Solar Power System Design and installation for Vans, RVs, Boats and Mobile Homes by Adams Nelson
English | May 8, 2021 | ISBN: N/A | ASIN: B094GZ8QLM | 87 pages | EPUB | 0.62 Mb
Now, you can develop your own power generation system on the go for your homes, RVs, vans, caravans, and boats using the 12-volt power and solar system. With this system, you can produce electricity to power your electrical appliances such as DVDs, fans, televisions, laptops, and other smart devices. This book is written to teach you an easy method of tapping from the energy of the solar system. As a beginner, setting up the solar system is pretty simple.
You will know how to begin and conclude the installation processes using simple tools and other materials at your disposal.
Other things you will learn in this book include:
Understanding Solar Power and 12-Volt Power
The Components of Solar Power Systems
Using Flexible Solar Panels
The Circuit System
The Inverter Unit
The Battery System
Attaching Solar Charge Controllers
The Design Methods of Solar Power Systems
Using the Safety Line of Solar Panels
How to Oil Solar Panels
The Basics of an Electrical Circuit
How to Measure Electricity
Using Series or Parallel Wiring
How Solar Radiations affects the Size of Solar Arrays
How can a Single Source of Charging destroy your Battery?
Ways of Managing your Batteries
How to Select your Batteries
How Many Solar Panels can Charge a 12-Volt Battery
Using a Solar charge Controller
Building a Battery Bank
Suitable Cable for Solar Panels
What is the Rate of Battery Discharge?
Discharging Solar Batteries Safely
Overcharging and Sulfation
Crimping a Solar System
How to Use a crimping Tool
The Best Crimping Tools for Solar Systems
Crimping without a Crimping Tool
Releasing a Crimping tool
How to Use Bus Bars
Fuses and Fuse Boxes
Determining the Size of Fuses
How to Select 12-Volt Light Bulbs
Combining Fuse Boxes and Bus Bars
12-Volt Power and USB Sockets
How to Build Solar System for Boats
Necessary Required
Setting up the System
Wiring the Boat for Solar System
Installing the Batteries
Mounting the Solar Panels
How to Set up Solar System for RV and Cars
Necessary Items and Materials
Installing the Battery
The Circuitry System
Mounting the Solar Panels
How to Use Basic Battery Power without Solar
How to Charge your Batteries
Using Inverters and AC Machines
How to Install a Solar Panel
Using Voltmeters in a Solar System
The Effects of Temperature on Battery and Solar System
How to Add AC Appliances to your Solar System
How to Connect Different Solar Panels in one Array
How to Connect Different Charge Controllers to a Battery Bank
How to Improve Power Out by Reflecting Light on Solar Panels
How to Use Battery Isolator in a Solar System
Using Voltage Monitors for Battery Banks
Connecting Smart Home Appliances to your Solar System
Using Bulk DC to DC Converter
Using a Phantom Load in Solar Array
How to Maintain Solar Panels
The Benefits of Solar Systems
The Drawbacks of Solar Systems
And more!
This is just a few of what is contained in this book and you can Download FREE with Kindle Unlimited