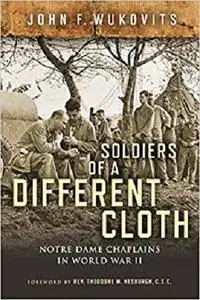 Soldiers of a Different Cloth: Notre Dame Chaplains in World War II by John F. Wukovits
English | August 15, 2018 | ISBN: 0268103933 | 408 pages | EPUB | 5.20 Mb
In
Soldiers of a Different Cloth
, New York Times best-selling author and military historian John Wukovits tells the inspiring story of thirty-five chaplains and missionaries who, while garnering little acclaim, performed extraordinary feats of courage and persistence during World War II. Ranging in age from twenty-two to fifty-three, these University of Notre Dame priests and nuns were counselor, friend, parent, and older sibling to the young soldiers they served. These chaplains experienced the horrors of the Death March in the Philippines and the filthy holds of the infamous Hell Ships. They dangled from a parachute while descending toward German fire at Normandy and shivered in Belgium's frigid snows during the Battle of the Bulge. They languished in German and Japanese prison camps, and stood speechless at Dachau.
Based on a vast collection of letters, papers, records, and photographs in the archives of the University of Notre Dame, as well as other contemporary sources, Wukovits brings to life these nearly forgotten heroes who served wherever duty sent them and wherever the war dictated. Wukovits intertwines their stories on the battlefronts with their memories of Notre Dame. In their letters to their superior in South Bend, Indiana, they often asked about campus, the Grotto, and the football team. Their love for Notre Dame helped buttress them during their wartime tribulations, and their return to campus was akin to a warm homecoming.
Soldiers of a Different Cloth
will fascinate and engage all readers interested in the history of World War II and alumni, friends, and fans of the Fighting Irish.