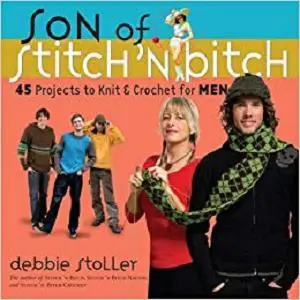 Son of Stitch 'n Bitch: 45 Projects to Knit and Crochet for Men by Debbie Stoller
English | November 22, 2007 | ISBN: 0761146172 | 215 pages | MOBI | 13 Mb
Debbie Stoller knows that at least half the projects women knit are intended for the men in their lives. She also knows that knitting
for a boyfriend or husband or father is full of pitfalls. The answer
Son of Stitch 'N Bitch
, the hip, smart knitter's guide to knitting for men.
A "knitting superstar" (
San Francisco Chronicle
) and author of the
New York Times
bestselling
Stitch 'N Bitch: The Knitter's Handbook
and other
Stitch 'N Bitch
books, Debbie Stoller combines fashion savvy with uncommon knitting sense. Here's how to get the right sweater measurement (because size
definitely
matters)—and why never to bring him along to pick out the yarn. Why "what's your favorite color" is a dangerous question—and how you can't go wrong with luxury yarns for even the most rugged of boyfriends. Best of all, here are 45 edgy, hipster patterns that are guy-vetted and approved, many designed by male master-knitters or women with men as design partners. Here's the Night & Day double-sided Brooklyn Bridge scarf. The Biker Boy sweater with a patch on the shoulder to protect against messenger bag wear and tear. Lucky Socks—think rat pack at the casino. Skull Isle Cap & Mitts. The Ernie sweater. Hangover Helpers—stuffed plush "beermeister" and "whiskey bottle" pillows. The Retropolitan Cardigan, with a geek-chic take on Mr. Rogers. Plus Man Hands (fingerless gloves), a Hackie Sack Hoodie, Pinup Girl Illusion scarf (oh, behave!), and more.
Feel Free to contact me for book requests, informations or feedbacks.
Without You And Your Support We Can't Continue
Thanks For Buying Premium From My Links For Support