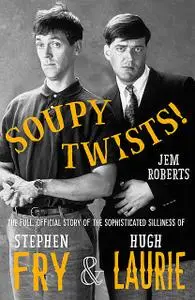 «Soupy Twists» by Jem Roberts
English | EPUB | 2.8 MB
This first ever, officially authorised biography of Fry & Laurie takes us on their journey from insecure Footlighters to international comedy heroes. It is the tale of a true friendship, a deep affection between two very funny men which has long been reflected back from an adoring public.Jem Roberts, acclaimed chronicler of Blackadder and The Hitchhiker's Guide to the Galaxy, covers everything from the excitement of being the first Perrier Award winners with The Cellar Tapes to the terrors of performing on Saturday Live, the collaborative warfare of Blackadder and the ultimate depiction of Wodehouse's most inimitable characters, Jeeves & Wooster. Beyond this, the trials and tribulations of their remarkable subsequent separate career paths, from QI to House, will be explored for the first time.With tantalising, never-before-seen titbits from the A Bit of Fry & Laurie archive, and interviews with Emma Thompson, Richard Curtis, John Lloyd and more, this history of Fry & Laurie is an overdue celebration, paying tribute to a legacy of laughter from one of the funniest double acts of all time.