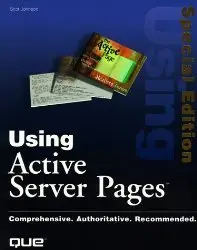 Special Edition Using Active Server Pages by: Scot Johnson, Keith Ballinger, Davis Howard Chapman
Publisher: Que | 1997 | ISBN: 07897138896 | 840 pages | 9.33 Mb
Presenting readers with an up-to-date look at how to create dynamic, personalized web sites for both business and personal use, this text focuses more on implementing Active Server Pages rather than on the theory behind working with Active Server Pages. It includes new functionality available with the release of Microsoft's Internet Information Server 4.0.
This book will serve as both a tutorial and a reference. Each chapter builds on the previous chapters, thus expanding the readers knowledge. Additionally, the material is organized in a way that the reader will be able to easily reference when they later have a question. This book provides the reader with up-to-date coverage of what can be done with Active Server Pages. This includes coverage of Active Server Pages as they relate to Transaction Server, the Personalization System, the Personal Web Server (with Windows 95), ActiveX Data Objects (ADO), and much more. Unlike most of the competition, this book will assume more basic knowledge of VBScript and standard web page creation. This will allow the book to go farther and deeper into technical topics surrounding Active Server Pages. Most of the competitive books center on Windows NT and IIS. This book will expand the coverage to include using Active Server Pages on Windows 95 using the Personal Web Server.