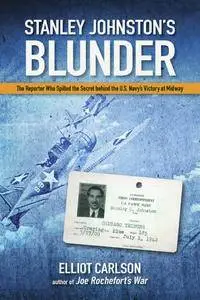 Stanley Johnston's Blunder: The Reporter Who Spilled the Secret Behind the U.S. Navy's Victory at Midway by Elliot Carlson
English | October 15th, 2017 | ASIN: B075T75BNV, ISBN: 1591146798 | 427 pages | EPUB | 6.36 MB
This book chronicles the activity of Chicago Tribune war correspondent Stanley Johnston aboard the carrier Lexington and the transport ship Barnett, during and just after the Battle of the Coral Sea. It shows how he ingratiated himself with key officers and used his access to obtain information from a secret radiogram by Admiral Nimitz that revealed the order of battle of Imperial Japanese Navy forces advancing on Midway—information that could only have been obtained by U.S.
Navy success breaking the Japanese naval code. Johnston put this info in a Tribune article, thereby potentially exposing the U.S. success and putting at risk this information source. A Grand Jury declined to indict Johnston when the Navy, hoping to avoid the publicity of a public trial, refused to let expert witnesses testify. Johnston went free. The book concludes that Johnston did not intend to reveal U.S. secrets; he just wanted a scoop. The book also concludes that, contrary to views in 1942 and lingering on today, the Japanese did NOT read the Tribune story, or hear of it, and thus never changed their naval code, as U.S. officers feared they would do because of the article.