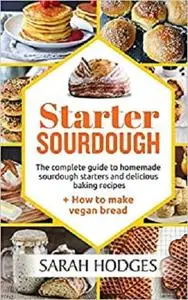 Starter Sourdough: The complete guide to homemade sourdough starters and delicious baking recipes + How to make vegan bread by Sarah Hodges
English | May 23, 2020 | ISBN: N/A | ASIN: B089758KN6 | 84 pages | EPUB | 0.15 Mb
Make your own sourdough starter and start baking with simple, easy-to-follow and tasty recipes! Want to learn how to make the perfect sourdough bread?
Discover exactly how to prepare your own yeasty starter and start making mind-blowing loaves, muffins, bagels, pancakes, waffles, buns, biscuits and so much more!
Designed for both beginners and experts, this book provides a step-by-step guide that shows you exactly how to make your own starter from scratch to make tasty and flavorful dishes. You will learn how to keep it alive, how to re-feed and a wide range of other excellent tips that makes your starter age better.
What's more? You get amazing baking recipes for a wide collection of bread and snacks.
Here, you will get: All you need to know about sourdough making and maintenance
•The complete guide to making your starter
•What to do in the first seven days of maintenance
•The fundamentals of handling sourdough
•How to properly store sourdough
Complete recipes for breads and other snacks
•A step-by-step guide to sourdough bread baking
•Easy recipes for baking bread, pizza, muffins, pancakes, bagels, biscuits, waffles, buns and more!
•Gluten-free sourdough bread recipe
•Sourdough vegan bread recipe
Start making your own delicious baked goods and mouth-watering delicacies today!
Feel Free to contact me for book requests, informations or feedbacks.
Without You And Your Support We Can't Continue
Thanks For Buying Premium From My Links For Support