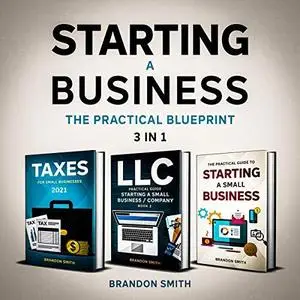 Starting A Business The Practical Blueprint (3 in 1): How You Can Launch Your Own Small Business & Understand Limited Liability Companies (LLC's) & Taxes by Brandon Smith
English | 2020 | ISBN: N/A | ASIN: B08R97G4CX | 467 pages | Rar (PDF, AZW3) | 2.44 Mb
Discover Everything You Need To Turn Your Idea Into A Thriving Business In 2021 & Beyond! (Including How To Navigate The Current Economic Climate!)
Have you been waiting for the 'right time' to start your dream business, but that 'time' just never comes.
We can always find excuses not to do something.
But, how about you finally take that leap of faith, go after your dreams and turn that business idea into reality.
Now, we're not suggesting to do this alone.
Luckily, our comprehensive blueprint for starting a successful Business in 2021 & beyond contains EVERTHING you need to take that leap of faith.
From uncovering your ideal customer, to writing that killer business plan, to working out what business entity is right for you & even mastering taxes for when you're inevitably turning a profit, we have you covered.
This book has been designed to help guide you every step of the way on this journey, and to make that leap of faith much more manageable & much more likely for long-term success & profitability.
All you need to do, is take action on the information presented & start your journey to entrepreneurial success.
You deserve to follow your dreams.
Here's a tiny preview of what's inside…
The Complete Step by Step Guide to Making That Incredible Idea Into a Successful and Fully Functioning Business (With A Step By Step Guide To Producing A Winning Business Plan!)
How Your Business Entity Type Effects Your Taxation (And What Business Type is Best for Your Situation Regarding Taxes!)
The Must Know Guide to Surviving an IRS Audit (This Could Save You $1000's)
Exactly How to Uncover Your Value Proposition and Build a Loyal Customer Base Who LOVE Your Company!
4 Powerful Steps Beginners With NO Experience Can Take to Build a Winning Marketing Strategy
How You Can Start a Business Even if You Have $0 to Work With #
The Step by Step Guide to Forming Your Own LLC Without Spending $1000's Or Wasting Hours On The Wring Things!
The Near Enough Unknown Benefits of Dissolving Your LLC- Including The 3 Best Ways To Go About It!
2 Simple, Yet Remarkably Effective Things Wildly Successful Entrepreneurs Do That You Don't
A Complete Practical Guide To The Effects The Pandemic Will Have On Business, And You Can Make Sure Your Business Thrives
The No-Fuss Way to an Organized Record Keeping System That Will Save You Hours of Time And Reduce Your Stress During Tax Season
4 Astounding Strategies to STOP YOU Overpaying on Your Taxes And 3 Legal Ways To Reduce Your Taxes In 2021
And SO Much More!
Even if you have ZERO business experience, even if you have absolutely NO idea how you can turn your ideas into a profitable business and even if you've failed time & time again in the business world, this practical blueprint will give you EVERYTHING you need to make your entrepreneurial dreams a reality.