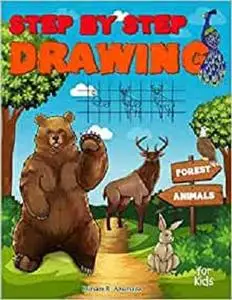 Step by Step Drawing Forest Animals: Easy Drawing For Beginners, How To Draw Book For Kids by Miriam R Ahumada
English | August 14, 2020 | ISBN: N/A | ASIN: B08GB2YJQW | 136 pages | EPUB | 14 Mb
Easy animal art for beginners! DIFFICULTY LEVEL 4 OF 5, CHECK OUT OUR OTHER BOOKS IN THE STEP BY STEP SERIES FOR OTHER DIFFICULTY LEVELS
Everyone loves a great drawing, not everyone knows how to make one. Worry no more, we are here to save the day. You will start feeling like a rookie and you will finish with the confidence of the most prestigious artist.
Forest Animals is one of the various books in the Step by Step series by Little Pencil Publishing made in collaboration with the talented illustrator Miriam R. Ahumada. With more than 10 years of expertise, Miriam delivers a simple and exciting way to create new art!
Drawing animals has never been easier and this book will guide you step by step on how to draw the most adorable forest animals.
With this book you'll get
50 different drawings
described with a basic shape and progress on how to archive the best details and structure to help you draw better making it easy to follow along. Different poses and side angles for you to work and choose from. These
simple line drawings
will allow you to branch out and have fun with your own personal style. From an easy caterpillar to a skilled orangutan, you and your kids will be able to make them all!
Furry, scaly, and feathered friends are here for aspiring artists to learn how to draw various types of forest animals including:
Badger
Bug
Caterpillar
Coyote
Cricket
Deer
Dragonfly
Eagle
Fox
Hare
Hedgehog
Jackal
Wild Pig
Kangaroo
Koala
Lynx
Okapi
Orangutan
Panda
Panther
Peacock
Praying Mantis
Rabbit
Raccoon
Ramphocelus
Snake
Squirrel
And more
In the insides of this book you will discover:
Professional tips and tricks to help you draw
Easy to follow steps
Different sides or poses
50 awesome Step by Step drawings
Drawing beginners will benefit by:
Working on your sketching skills
Improving your drawing abilities
Saving money in learning how to draw animals the right way
Nurturing your confidence
Versatile and quick way to learn
Strengthening your focus and concentration
Developing further your creativity
Relaxing and soothing
Increases your cognitive capacities
Review the lesson anywhere and anytime and improve faster by doing so
Gain a new hobby
Plus, many more
If you love drawing or you would love to learn how to create stunning art, this book is just for you.
By purchasing this drawing book, you'll learn the basic concepts that any artist needs to draw realistic and professional drawings as well as inspire you to add flourishes to other projects.
Everybody knows that practice makes perfect but with the right tools this process can be made so much easier. Each step tackles how to draw a specific type and parts of the animal. Everything you need in order to draw animals is contained in this book.
The book is a Step by Step guide that shows exactly the type or shape the animal is. For another funny outtakes on drawing please be sure to check out
Step by Step Ocean Animals, Step by Step Fat Pets or Step by Step Zoo Animals by Little Pencil.
Have fun and be creative!
Feel Free to contact me for book requests, informations or feedbacks.
Without You And Your Support We Can't Continue
Thanks For Buying Premium From My Links For Support