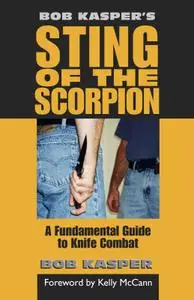 Bob Kasper's Sting of the Scorpion: A Fundamental Guide to Knife Combat
Paladin Press | 2009 | ISBN: 1581606974 | English | 122 pages | PDF | 1.73 MB
This is a book about knife combat - it is about carrying a knife as a deadly weapon and, when the need for deadly force arises, knowing how to use it. It is about a fighting knife, how to carry it, how to draw it and how to engage it in a kill-or-be-killed situation." Bob Kasper left no doubt why he wrote this book. Many of you may already be familiar with Kasper from his writings in Tactical Knives magazine; his knife designs, especially the Scorpion; or his practical instruction in the tactics, techniques and procedures of edged-weapon combat. Those of you who never had the chance to train with, correspond with or read his writings are in for a treat.
Paladin is honored to be able to offer Bob Kasper's Sting of the Scorpion to the public for the very first time. In it Kasper imparts his considerable knowledge about knife design, selection, carry and draw; but, most important, he reveals his time-tested principles for using the knife on the battlefield. In his exclusive foreword, training partner and friend Kelly McCann sums it up best: "Bob Kasper's Sting of the Scorpion was written by a guy who had both been stung and had stung - something too important to overlook against a backdrop of ever increasing skilled, but perhaps not experienced, instructors. We're all fortunate Bob wrote down his thoughts, beliefs and training methodology regarding edged weapons or his untimely passing would've left an even larger void than it did"