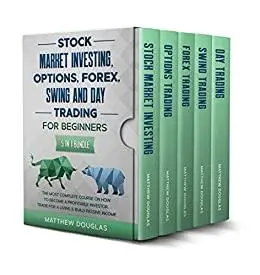 Stock Market Investing for Beginners: Options, Forex, Swing and Day Trading for Beginners: 5 in 1: The MOST COMPLETE COURSE on How to Become a … TRADE FOR A LIVING & Build PASSIVE INCOME by Matthew Douglas
English | August 28, 2020 | ISBN: N/A | ASIN: B08GVJ6HLY | 712 pages | EPUB | 0.66 Mb
Do you want a passive income that will keep money flowing into your account every month?Are you worried that you don't know enough about investing and are afraid of making a mistake?
Stock Market Investing and Trading is something that isn't new and has been around in one form or another since ancient times. Astute businesspeople have made fortunes by skilfully predicting certain events and then making sure they are in the best position to benefit from them financially. Not a lot has changed, except maybe for the technology now being used and now you can trade and make money too.
In this new book,
Stock Market Investing, Options, Forex, Swing and Day Trading for Beginners: 5 in 1 Bundle,
you can learn the secrets and profit with Trading with chapters on:
The basic principles of the stock market
How to get started with investing
The most common mistakes that beginners make
Options contracts for beginners
Trading strategies for novices
How to buy covered calls
The secret to maximizing your profits
How to make passive income in just 7 days
And lots more…
This is more than simply a complete course for beginners. It is a detailed and comprehensive guide to the Trading world which outlines the best strategies and psychology that will help you to plan and prepare to make successful investments that will become your primary source of income.
Feel Free to contact me for book requests, informations or feedbacks.
Without You And Your Support We Can't Continue
Thanks For Buying Premium From My Links For Support