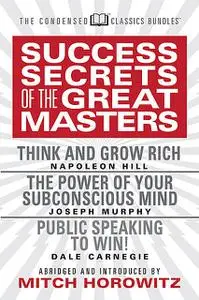 «Success Secrets from the Great Masters (Condensed Classics)» by Dale Carnegie, Joseph Murphy, Napoleon Hill
English | EPUB | 0.3 MB
Success Secrets From the Great Masters is a life-changing three-book collection of abridged classics designed to guide you towards success in all areas of your life. Napoleon Hill's Think and Grow Rich is the world's greatest book on successful living; Joseph Murphy's The Power of Your Subconscious Mind will help you discover your true potential for achievement and wellness; and Dale Carnegie's Public Speaking to Win! Is a master class on how to speak with persuasiveness and power.
Abridged and introduced by PEN Award-winning historian Mitch Horowitz, these exquisitely brief and faithful condensations on bold living will mark a true turning point in your life. Discover:
· Why you must write down your goals
· The immeasurable importance of a definite chief aim · How to escape self-limiting patterns of the past
· The incredible, unbounded abilities of your subconscious
· How to win people's confidence
· How to move your listeners to action
Let these masters show you the way to a life of lasting achievement.