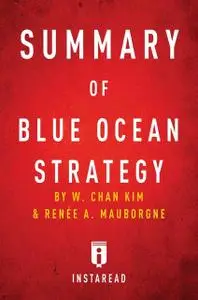 «Summary of Blue Ocean Strategy» by Instaread
English | EPUB | 1.8 MB
Summary of Blue Ocean Strategy by W. Chan Kim and Renée A. Mauborgne | Includes Analysis 
Preview: 
Blue Ocean Strategy, Expanded Edition: How to Create Uncontested Market Space and Make the Competition Irrelevant
is the 2015 update to the classic business strategy text of the same name originally published in 2005. The text offers a practical handbook to business students and entrepreneurs who wish to rise above the fray of the competition, become pioneers in previously uncharted market territory, and gain access to impressive growth opportunities and an untapped customer base.
Most businesses make the mistake of focusing on their competitors when developing strategies. A "blue ocean" business, on the other hand, focuses on how to create new value for customers, the base of which may be people who are not yet customers of this business' core industry. The term "blue ocean" is derived from the idea that an area of unexplored market space is like the clear, blue waters of an undisturbed portion of ocean… 
PLEASE NOTE: This is 
key takeaways and analysis
 of the book and NOT the original book. 
Inside this Instaread Summary of Blue Ocean Strategy by W. Chan Kim and Renée A. Mauborgne | Includes Analysis 
Overview of the Book
Important People
Key Takeaways
Analysis of Key Takeaways 
About the Author
With Instaread, you can get the key takeaways, summary and analysis of a book in 15 minutes. We read every chapter, identify the key takeaways and analyze them for your convenience.