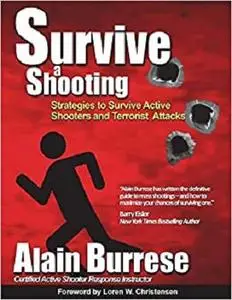 Survive A Shooting: Strategies to Survive Active Shooters and Terrorist Attacks by Alain Burrese
English | May 9, 2018 | ISBN: 1937872122 | 475 pages | EPUB | 9.67 Mb
Active Shooter is all too common a phrase in the news these days. It is sad and terrible that we even have something to describe these horrific acts. The reality is that we live in a world that can, at times, be quite dangerous. The good news is that you do have options. You don't have to be a helpless victim! There are things you can learn to increase your survivability! This book will teach you how you can survive.
Alain's unique methodology of Escape, Deny, and Attack Back is based on the central principle: you have to MOVE! Surviving a shooting is not a linear process as others would suggest, and this book will teach you when and how to Escape safely, how to Deny the shooter access to you if you can't escape, and how to successfully work alone, or as a team, to Attack Back and bring the killer down. Hiding and hoping isn't a plan and will likely get you killed. Learn to survive!
This book is designed to save lives!
Advance Praise:
"Alain Burrese has written the definitive guide to mass shootings—and how to maximize your chances of surviving one. And the common-sense steps he recommends aren't just relevant for shootings—they're well calibrated to help you keep yourself and your family safe generally."
- Barry Eisler
"I have been studying the problem of active killer response for more than two decades. I've read every book available on the subject and have both attended and taught countless classes on the topic. Without question, Alain's book is the absolute best reference for active killer response available on the market today. His advice is both thorough and driven by industry best practices. If you want to learn how to prevail in an active killer attack, you need this book in your library."
- Greg Ellifritz
"Way back in the 1990's, Alain Burrese established himself as a leading thinker in self-defense circles when he published Hard-Won Wisdom from the School of Hard Knocks. In the intervening years, Alain has continued to learn, grow, research, publish, and teach. I had the privilege to read a draft of his latest book, Survive a Shooting, which you now hold in your hands. Succinct, clear and accurate are just what I expect from Alain. Survive A Shooting offers something else. Instead of jacking up the fear to create a market, Alain took a potentially terrifying subject and created a calming, empowering book. Yes, it's bad Alain points out. But there are things you can do. You are not helpless. That's the defining message of this very useful book. I hate touchy feely jargon, but Survive a Shooting is empowering. The kind of book that leaves you a little stronger, a little more ready."
- Rory Miller
"Survive a Shooting is a must read for anyone that may have to engage an active shooter or mass murderer. Alain did a great job detailing the history of mass shooting situations and what we must be prepared for in the future; as well as what we can do to mitigate this ominous threat."
- Dr. Dale Comstock
"The CIA trains operatives to survive in hostile environments. Survive A Shooting trains people to survive active threats. Putting the knowledge in this book to use could literally save your life."
- Jason Hanson
"No one wants to be a victim, yet learning how to successfully defend against an armed threat can be a significant challenge. Nevertheless, with the right training it's a surmountable one. If I was going to put my life (or a member of my family's) in someone else's hands during an active shooting, I can think of no better person to safeguard it than Alain Burrese. His knowledge, experience, and pragmatic approach create powerful, trustworthy advice that everyone must know."
- Lawrence Kane
Feel Free to contact me for book requests, informations or feedbacks.
Without You And Your Support We Can't Continue
Thanks For Buying Premium From My Links For Support