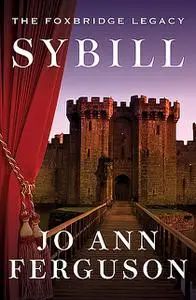 «Sybill» by Jo Ann Ferguson
English | EPUB | 0.9 MB
A young woman banished from the splendor of Elizabethan society is swept into dangerous passions and hidden agendas at a powerful nobleman's estate in the first novel of Jo Ann Ferguson's spellbinding Foxbridge Legacy seriesDisgraced and penniless after her father's death, Sybill Hampton leaves London for the wild northwest coast to become the ward of a man she barely knows. When she arrives at Foxbridge Cloister, it isn't her guardian who greets her, but a darkly handsome stranger who infuriates her with his assumption that she is a fortune hunter.The enigmatic overseer of the isolated estate, Trevor Breton, shares an uneasy relationship with his employer, the mercurial Owen Wythe, Lord Foxbridge, and a tantalizing one with Sybill, who at her guardian's request takes over the housekeeping duties. Sybill begins to fall under Trevor's seductive spell, unaware that a plan is being set in motion—a cunningly orchestrated scheme that may force her to wed one man while losing her heart to another.Sybill is the 1st book in the Foxbridge Legacy, but you may enjoy reading the series in any order.