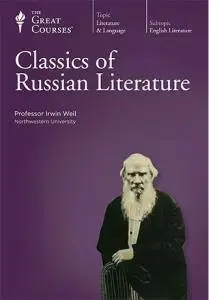 Classics Of Russian Literature
Audio CDs in MP3 / English: MP3, 105 kb/s (2 ch) | Duration: 17:31:01 | 2006 | ISBN-10: 1598031856 | 794 MB
Genre: Literature
Russian literature famously probes the depths of the human soul. These 36 half-hour lectures delve into this extraordinary body of work under the guidance of Professor Irwin Weil of Northwestern University, an award-winning teacher at Northwestern University and a legend among educators in the United States and Russia.
Professor Weil introduces you to such masterpieces as Tolstoy's War and Peace, Dostoevsky's Crime and Punishment, Pushkin's Eugene Onegin, Gogol's Dead Souls, Chekhov's The Seagull, Pasternak's Doctor Zhivago, and many other great novels, stories, plays, and poems by Russian authors.
You will study more than 40 works by a dozen writers, from Aleksandr Pushkin in the 19th century to Aleksandr Solzhenitsyn in the 20th. You will also investigate the origin of Russian literature itself, which traces to powerful epic poetry and beautiful renderings of the Bible into Slavic during the Middle Ages.
All of these works are treated in translation, but Professor Weil does something very unusual for a literature-in-translation course. For almost every passage that he quotes in English, he reads an extract in the original Russian, with a fluent accent and an actor's sense of drama.
You may not understand Russian, but there is no mistaking the expressive intonation, rhythm, and feeling with which Professor Weil performs these passages. At one point, reciting verses from Russia's most famous poet, he advises: "Listen to it once as a piece of music, and you will sense the linguistic genius of Pushkin."
Classics of Russian Literature explores Russian masterpieces at all levels—characters, plots, scenes, and sometimes even single sentences, including:
Tolstoy's Anna Karenina, which has one of the most famous first sentences in all of literature, setting the stage for a novel that probes the tragic dimension of a subject—adultery—that had traditionally been treated as satire.
Gogol's Dead Souls, with a concluding passage beloved to all Russians, in which the hero flees the scene of his fiendishly clever swindle in a troika—a fast carriage drawn by three horses—to the author's invocation, "Oh Rus' [Russia], whither art thou hurtling?"
Dostoevsky's The Brothers Karamazov, whose long chapter "The Grand Inquisitor" is a gripping, haunting, mystifying parable that is often studied on its own, but that is all the more powerful in this great novel, which addresses faith, doubt, redemption, and other timeless themes.
Video Version here:
Classics Of Russian Literature
Welcome to the best eLearning video (English, German, French, Spanish language) and many more:
LINK
Do not forget to check my blog! Updated regularly! Add in bookmarks my blog :)
PM me if Links not working!
No mirrors pls!