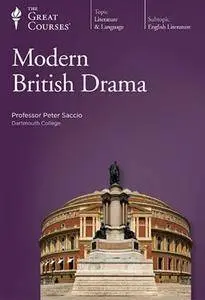 Modern British Drama
DVDRips | MP4/AVC, ~1000 kb/s | 640x480 | Duration: 06:16:02 | English: AAC, 113 kb/s (2 ch) | 2.93 GB
Genre: Literature
Changes in British society affected and were reflected in the theater of the times. Playwrights reacted to the social circles, governmental constructs, and economic conditions around them, using the essential elements of theater—characterization, set, dialogue—to exaggerate, parody, manipulate, or deconstruct them.
In modern London, plays matter. They are part of the cultural dialogue of the nation. They are important for Britain's idea of itself and for its self-presentation to the world. They have been exported with great success to America and the rest of the English-speaking world.
Professor Peter Saccio has selected the major British playwrights of the past century to cover in this course: Wilde, Shaw, Coward, Beckett, Osborne, Pinter, Stoppard, Churchill, and Hare. His reasons for selecting them vary:
Some wittily celebrate (or satirize) the manners of an elite class.
Some explore the large or subtle changes in a kingdom that once ruled a quarter of the Earth and now produces royal soap opera.
Some assault the socio-political establishment.
Some probe the existential anxiety of the modern age.
All of them are enormously articulate, exploiting the verbal resources of the English language and the visual resources of the contemporary stage to hold up the mirror to our times.
"Unlike other media, dramatic art occurs in a certain place and time, in the 'here and now,'" states Professor Saccio. "The subject matter need not be visible or realistic. It can be historical, fantastic, or allegorical."
Social Interaction: The Root of British Theater
Professor Saccio finds the root of theater in social interaction. "It is the most immediate of the arts, displaying human situations through living actors before a present audience," he maintains.
He suggests that early 20th-century Britain found its best theatrical expression in the comedy of manners, the drama of upper-class drawing rooms. He goes on to argue that subsequent playwrights adapted, displaced, rebelled against, and revived the comedy of manners, thereby revealing changes in personal, family, and national life.
"British theater is uniquely in touch, not only with the conversation of our parlors, but also with the institutions of our public life and the back alleys of our minds," says Dr. Saccio.
Professor Saccio (Ph.D., Princeton University) is the Leon D. Black Professor of Shakespearean Studies and Professor of English Emeritus at Dartmouth College. As hundreds of students at Dartmouth have attested, Professor Saccio is a lecturer of rare passion and gifts. He was honored with Dartmouth's J. Kenneth Huntington Memorial Award for Outstanding Teaching. He is the author of Shakespeare's English Kings (1977), a recognized classic in its field, as well as other books and dozens of scholarly articles.
Lecture One: British Theater: 1890-1990
Lecture Two: Comedy of Manners: Wilde and Coward
Lecture Three: George Bernard Shaw: Socialist and Prophet
Lecture Four: John Osborne Looks Back in Anger
Lecture Five: Samuel Beckett Waits for Godot
Lecture Six: The Menace of Harold Pinter
Lecture Seven: The Inventions of Tom Stoppard
Lecture Eight: Political Theater: Caryl Churchill and David Hare
Welcome to the best eLearning video (English, German, French, Spanish language) and many more:
LINK
Do not forget to check my blog! Updated regularly! Add in bookmarks my blog :)
PM me if Links not working!
No mirrors pls!